Coloured Pencil Drawings

Pet Portraits Make Unique Gifts for People who Love Their Pets
The pet shop seems to be the place to find unique gifts for animal lovers or pet owners. But what if you really want something truly unique? Commission a pet portrait artist to create one-of-a-kind
pet portraits as a gift for your friend or loved one.
For peope who love their pets, hand-drawn coloured pencil drawings or graphite pencil drawings of their beloved companions would make truly memorable and unique gifts.

From photo to art: coloured pencil drawing of a bull dog (left) on acid-free, heavyweight Daley Rowney Cartridge paper (from UK).

From Photo to Art
All you need is a clear and sharp photograph of the pet. Pet portrait artist Keat will be able to
turn your pet photos into unique pet portraits.

Why Coloured Pencil?
The humble coloured pencil is now an art medium in its own right. Colored pencil drawings are ideal for:
Highly-detailed, photo-realistic pet portraits (see the bull dog drawing above).

If you like the boldness and brilliance of colour in a pet portrait, the coloured pencil is a lovely medium to create the effect.


Small pet portraits

Coloured pencil drawings do take longer to complete than graphite pencil drawings. It takes many hours of layering and blending to create the depth and luminosity of colours you see in a coloured pencil pet portrait. The coloured pencil is most suitable for smaller size pet portraits - 8" x 10" or 9" x 12" which is roughly an A4. Maximum size of a coloured pencil pet portrait is 12" x 16" (equivalent to an A3).
Pet Portraits Make Unique Memorable Gifts

Custom coloured pencil drawings of a beloved pet will make unique gifts for a pet owner or animal lover - or even yourself! Some pet owners commission a pet portrait as a memorial.


For a Unique Gift, order a custom Coloured Pencil Pet Portrait.


Below is a selection of pencil drawings in coloured pencil by Singapore pet portrait artist
Keat Cheong.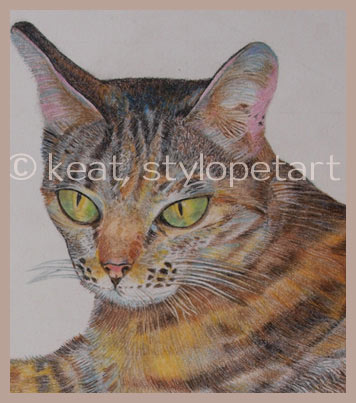 Cat Portraits in Colored Pencil
Cats are perfect models for coloured pencil portraits. Their regal presence and luminous eyes make them particularly endearing to the coloured pencil.
This is a coloured pencil drawing of a Singapore-born cat nicknamed "Bangra". He lives in an animal-loving household with 8 cats. As one of the owner's favorites, he is bestowed with special privileges such as having the small plot of garden all to himself in the mornings!

From photo to art: coloured pencil drawing of a regal cat (left) on acid-free, archival Stonehenge paper (imported from the US).
All pet portraits are 100% hand-drawn on acid-free, quality paper

Stonehenge and Daley-Rowney Cartridge paper are my favourite paper for both coloured pencil and graphite drawings though I also use other brands of artist-quality drawing paper.
Both achieve different effects. Stonehenge Paper (100% cotton) is a fine art paper of archival quality, perfect for creating the soft, smooth textured look. Daley-Rowney Cartridge paper has a smooth hard surface and is great for sharp, detailed drawings.
Can't find unique gifts in the pet shop? Commission a custom pet portrait.
Instead of getting something common in the pet shop as a gift, experience the
pleasure of giving an original pet portrait as a unique gift to a loved one or special friend.


Make Your Gift Unique. Give a custom Pet Portrait.



Have a question? Drop me an email.

Back to top of the page | graphite pencil drawings | oil pet portraits