Pet Portrait Prices


A Timeless Pet Portrait is Worth Much, Much More

All Pet Portraits Are 100% Hand-drawn or Hand-painted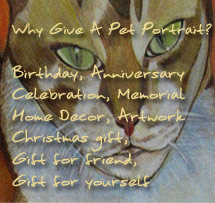 It takes many hours, days and weeks to create each pet portrait by hand. A pet portrait is an invaluable and meaningful gift for yourself or for a loved one and friend. It is a unique way to celebrate the life of your beloved pet and companion. Or as a loving tribute to memories shared.
In the table below you will find prices for pet portraits in graphite pencil, coloured pencil and oil for standard small to medium sizes. For larger sizes, please send me your requirements and
ask for a quote.

Special Prices for Pet Portraits for limited period only
Portrait Size

Graphite Pencil

Coloured Pencil

Oil Painting

Details

8" X 10"
(small)
$180
$250
NA

Head and neck, single pet,
plain background,
closeup portraits


9" X 12" (A4)
(medium)

$220
$300
NA

Head and neck, single pet,
plain background,
close-up portraits


12" X 12"
(medium)

NA
NA
$300

Head and neck, single pet,
plain background,
close-up portraits

About
12" X 16" (A3)
(large)
$320
$400
$450

Head and neck, up to two pets,
or one full body,
plain background,
Additional pet, add $50
for oil and pencil drawings

About
18" X 14"
(large)

NA
NA
$580

Head and neck, up to two pets,
or one full body
plain background,
Additional pet, add $50

* Adding a detailed background will cost more.
* The above prices do not include framing, delivery or shipping charges.
* Portraits are delivered unframed. Price of pencil drawings includes mounting on a plain mat to prevent creasing.
* For pencil drawings, the actual portraits will be smaller than than the paper size to allow a margin of space for framing. All pencil drawings are fixed by a colourless fixative to preserve the portraits.

Things to note:
Framing not necessary for oil portraits
The finished pet portraits are delivered unframed.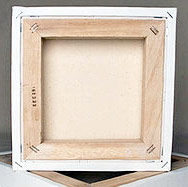 You do no need to incur extra framing costs as the oil portraits are painted on splined canvas boards (left). Not canvas panels. Splined canvas boards cost more but offer great convenience. Splined canvas boards are pre-primed and pre-stretched - and ready for display without a frame, any time, anywhere.
But if you wish to custom-frame the painting, a professional bespoke frame-maker will be able to find a beautiful frame to hold the artwork.
Mounting for pencil drawings
Finished graphite pencil and coloured pencil drawings will come with a temporary backing as support - a PH-neutral plain mat (from Daler Rowney UK or equivalent). This helps to prevent the artwork from creasing or warping.
If you would like an archival, museum-quality mounting board as mat backing for the pencil drawing, please consult a professional bespoke frame-maker. The frame-maker will also be able to advise you on the cost of framing a pencil drawing.
Pencil drawings will have at least one-inch (2.5 cm) margin around the painting to allow for framing.

Trusted brands and high quality materials
High quality materials are used for creating your pet portrait.
For oil portraits, I use Winsor and Newton's Artisan Water Mixable Oil. This new range of oil paints are acid-free, non-toxic, and more expensive than traditional solvent-soluble oil paints. The canvas used for the oil pet portraits are made of 100% cotton and directly imported from Europe.
For coloured pencil and graphite pencil drawings, I use only high quality, archival Stonehenge Paper, Daley Rowney Heavyweight Cartridge Paper, or similar range of non-acid paper.
Estimated completion time
It may take four to eight weeks to complete a pet portrait. It depends on the chosen medium and the number of paintings and drawings I am working on when you place your order.
Prices
The above prices are quoted in Singapore dollars. For international orders, use the currency converter to get an estimate cost. The final cost will depend on the day-of-transaction conversion rates and the exchanges rates charged by your credit card company. Shipping costs for overseas orders are extra.
Payment
50% deposit is required before work on the portrait begins. Rest of the pet portrait fee must be paid before the finished portrait is delivered.
Payment is by cash or cheque for portraits commissioned in Singapore. Payment by Paypal for overseas commissions.
Copyright
Commissioned pet portraits are sold for personal use only.

Your purchase buys the artwork itself, but not the right to reproduce it in any medium, whether for distribution or for any commerical use. Pet portrait artist Keat Cheong retains all reproduction rights to the artwork, including prints. Any reproduction of the artwork for financial gain and commercial use is strictly not allowed. If you would like prints of the finished portraits,
let me know.

Please read the terms and conditions.
Loading currency converter
Please wait
....


Order a Pet Portrait today
as a Unique Gift for Someone Special.

Back to top of the page | Return to home