Oil Pet Portraits


Your Treasured Memories Captured in Original Pet Art

Oil pet portraits are excellent in capturing treasured memories of your beloved pet. A simple photograph, in the hands of a pet portrait artist, can be turned into a piece of original pet art - which is yours to keep for a long time.



From Photo to Art
Simply select a sharp and high-resolution photo of your pet, email it to pet portrait artist Keat, and see how your favorite pet photo is transformed into an original pet portrait, a piece of unique pet art which you will be proud to display in the living room or hallway of your house.

For a Unique Gift, Order a Custom Oil Pet Portrait.


Below is a selection of oil pet portraits by Singapore pet portrait artist Keat:
Capture Your Pet's Personality in an Oil Pet Portrait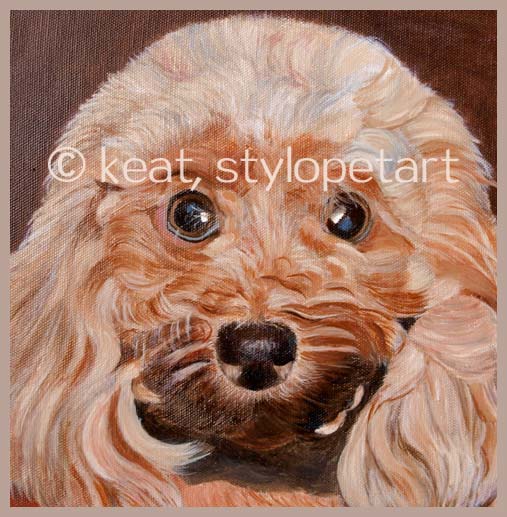 This is Coco. She has a fun and quirky personality. Creating an oil pet portrait of her was immensely fulfilling.

Coco loves to nibble. And she has a fetish for toes. While you are not looking, Coco will sneak up - as stealthily as a cat - and nibble at your toes - to get your attention. Being just two is probably what makes her so childlike - and so infectiously energetic.

If you have a young pet, an oil pet portrait is a great way to capture his or her innocence now while the memories are so vividly fresh and clear.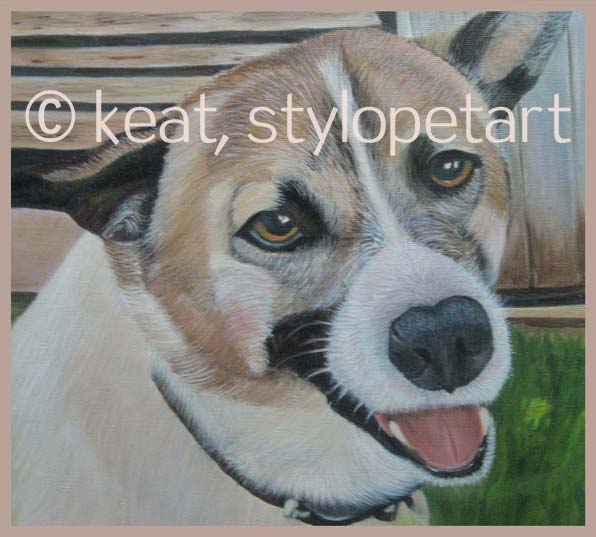 Oil is a versatile medium for pet portraits. You can create any style in oil. It could be a photo-realistic portraiture or a bold piece of pet art done in more contemporary, pop art style. Either way, your treasured memories of your beloved pet will be forever captured in an oil pet portrait.

Order an Original Pet Portrait and Keep Lasting Memories of Your Beloved Pet.


Have a question? Simply email pet portait artist Keat.



Back to top of the page | Go to coloured pencil drawings | graphite pencil drawings